Information about the TEAM Program

Training, Education And Mentoring

Dressage4kids, Inc. is very proud to offer the TEAM Program for dedicated, determined young dressage riders of all levels, ages 25 and under. The goal of the program is to find, to help to educate, and to be part of the development of talented youth to become the international riders, teachers, and trainers of the future.

Members of D4K's TEAM Program are part of a national community of young determined dressage riders. They are regularly sent educational material by email. They may receive special rates at educational events, and are eligible for D4K's TEAM clinics which are held throughout the US. Occasionally D4K's TEAM riders are offered special opportunities such as the 2015 Meet and Greet with Charlotte duJardin and the 2016 two month training with the Hannoverian Verband in Germany.

The program organizes clinics in various parts of the US and from these clinics, participants are selected for national Horsemastership clinics. Top international coaches can also nominate riders whom they feel have special talent for the Horsemastership clinics.

The D4K TEAM Program is for Dressage competitors age 25 and under. It is meant as a stepping-stone from participating at the grassroots level to climbing the long ladder on the way to representing the US in international competitions, to becoming successful professionals, and/or to becoming the very best dressage riders they can be. Through this program, dedicated, talented Dressage youth will be sought out in all parts of the US. The teacher(s) in the clinics will ensure that the basics of their education as riders and horsemen are properly established and will give them a road map for their Dressage journey.

Interested riders 25 and under can apply by filling out an application and placing online a short video of themselves riding. Once a suitable number of applicants in an area have applied, a clinic is set up. There is no deadline for applications. Any interested riders should apply immediately. In the video, selectors are looking for the correctness of the rider's seat, connection to the horse, timing of aids, use of half halts, as well as a feel for rhythm, tempo, relaxation, and throughness of the horse – all commensurate to the level of the rider. It is not necessary that the rider be riding at a high level. Riders as young as 8 have participated in the clinics as well as riders working at training level.

During the clinic sessions, the instructors will evaluate and try to improve the rider's position, use of aids, knowledge, and abilities for competitive Dressage. The riders may also receive written evaluations.

The two-day regional clinics and the five-day national clinics include lessons, lectures, and demonstrations. Riders do not need to have their own horses, if they can find a horse to borrow. At all training sessions, instruction is also provided in stable management, riding theory, fitness, sports psychology, etc.

Lendon Gray headlines the regional clinics, although other international riders/trainers may help so that many parts of the US will be covered. The national clinics will be headlined by Robert Dover and Courtney King Dye. These three professionals have competed in a total of 9 Olympics and 10 World Cups. They have also trained horses and coached riders not only for international competitions, but also for National Championships at all levels as well as for the North American Junior/Young Rider Championships.

D4K TEAM Program members have also been offered discounts at symposiums and clinics as well as discounts for online programs. On-going education in various forms is offered to these riders.

How to register for a particular TEAM Program clinic

If you are already a member of the TEAM Program, email Mary Livernois (d4k.org@gmail.com) and advise us of your interest in a particular program. If you are not yet a member, please review the TEAM Program information and complete the application process. Formal invitation letters are sent approximately 6 weeks prior to the start of a clinic. These invitation letters include information such as clinic fees, stabling fees, liability waivers, etc.

TEAM Program fees

Fees are subject to change without notice.

The cost for a TEAM varies depending on the clinic. For 2-day regional clinics, the clinic fees are typically $235. Added to that are stabling fees, lunches, and everything else associated with traveling.

There will be no refunds starting 3 weeks prior to the start of the clinic unless you can fill your spot.

Is there a deadline to apply to the TEAM Program?

There is no deadline. Applications are reviewed on a rolling basis. Clinics tend to fill quickly, so we do recommend getting in your application as soon as possible, but there is no deadline.

Application Form - scroll down to access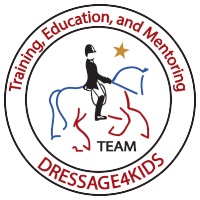 About the Dressage4Kids TEAM Program
Training, Education And Mentoring
Dressage4kids, Inc. is very proud to offer the TEAM Program for dedicated, determined young dressage riders of all levels, ages 25 and under. The goal of the program is to find, to help to educate, and to be part of the development of talented youth to become the international riders, teachers, and trainers of the future.
Members of D4K's TEAM Program are part of a national community of young determined dressage riders. They are regularly sent educational material by email. They may receive special rates at educational events, and are eligible for D4K's TEAM clinics which are held throughout the US. Occasionally D4K's TEAM riders are offered special opportunities such as the 2015 Meet and Greet with Charlotte duJardin and the 2016 two month training with the Hannoverian Verband in Germany.
The program organizes clinics in various parts of the US and from these clinics, participants are selected for national Horsemastership clinics. Top international coaches can also nominate riders whom they feel have special talent for the Horsemastership clinics.
The D4K TEAM Program is for Dressage competitors age 25 and under. It is meant as a stepping-stone from participating at the grassroots level to climbing the long ladder on the way to representing the US in international competitions, to becoming successful professionals, and/or to becoming the very best dressage riders they can be. Through this program, dedicated, talented Dressage youth will be sought out in all parts of the US. The teacher(s) in the clinics will ensure that the basics of their education as riders and horsemen are properly established and will give them a road map for their Dressage journey.
Interested riders 25 and under can apply by filling out an application and placing online a short video of themselves riding. Once a suitable number of applicants in an area have applied, a clinic is set up.  There is no deadline for applications. Any interested riders should apply immediately. In the video, selectors are looking for the correctness of the rider's seat, connection to the horse, timing of aids, use of half halts, as well as a feel for rhythm, tempo, relaxation, and throughness of the horse – all commensurate to the level of the rider. It is not necessary that the rider be riding at a high level. Riders as young as 8 have participated in the clinics as well as riders working at training level.
During the clinic sessions, the instructors will evaluate and try to improve the rider's position, use of aids, knowledge, and abilities for competitive Dressage. The riders may also receive written evaluations.
The two-day regional clinics and the five-day national clinics include lessons, lectures, and demonstrations. Riders do not need to have their own horses, if they can find a horse to borrow. At all training sessions, instruction is also provided in stable management, riding theory, fitness, sports psychology, etc.
Lendon Gray headlines the regional clinics, although other international riders/trainers may help so that many parts of the US will be covered. The national clinics will be headlined by Robert Dover and Courtney King Dye.  These three professionals have competed in a total of 9 Olympics and 10 World Cups. They have also trained horses and coached riders not only for international competitions, but also for National Championships at all levels as well as for the North American Junior/Young Rider Championships.
D4K TEAM Program members have also been offered discounts at symposiums and clinics as well as discounts for online programs. On-going education in various forms is offered to these riders.
Upcoming Events
How to register for a particular TEAM Program clinic
If you are already a member of the TEAM Program, email Mary Livernois (d4k.org@gmail.com) and advise us of your interest in a particular program. If you are not yet a member, please review the TEAM Program information and complete the application process. Formal invitation letters are sent approximately 6 weeks prior to the start of a clinic. These invitation letters include information such as clinic fees, stabling fees, liability waivers, etc.
Information about TEAM Program fees
Fees are subject to change without notice.
The cost for a TEAM varies depending on the clinic. For 2-day regional clinics, the clinic fees are typically $235. Added to that are stabling fees, lunches, and everything else associated with traveling.  Riders are responsible for their own housing and meals.
There will be no refunds starting 3 weeks prior to the start of the clinic unless you can fill your spot.
Application Deadlines
There are no deadlines. Applications are reviewed on a rolling basis. Clinics tend to fill quickly, so we do recommend getting in your application as soon as possible, but there are no deadlines.
Apply to the Dressage4Kids TEAM Program
There are 4 components to the D4K TEAM Program Application:
Application form (fillable fields below)
YouTube video link (may be typed into fillable form, further details below)
Letter of recommendation should be sent via email to d4k.org@gmail.com.
$20 non-refundable application fee (clinic fees are separate)
Fill out the application using the fillable form fields below or email the application to: d4k.org@gmail.com.  Please indicate if you would like to be considered for a particular clinic.  For a list of upcoming clinics, please visit our Event Calendar.
All form fields are required.  Incomplete forms will not be processed.